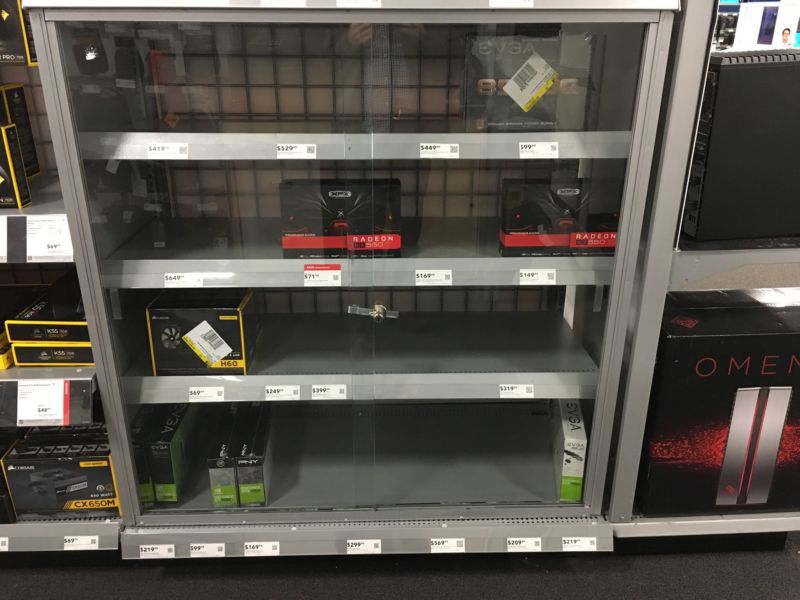 Nvidia announced its financial results on Thursday, and they were spectacular. For the company's first fiscal quarter—which runs from late January through late April—the company had revenues of $3.2 billion. That's up 10 percent from the previous quarter and up 66 percent over the last year. Profits were even more impressive, rising 11 percent from the previous quarter and 145 percent from a year earlier.
A big reason for this: the soaring value of ether and other cryptocurrencies in recent months created a ton of demand for graphics cards to mine them. That surging demand caused the street price of some high-end graphics cards to more than double between mid-2017 and February 2018.
Here's why you can't buy a high-end graphics card at Best Buy
It's a sensitive subject for major graphics-card makers because their most important market in the long run is gamers, not miners. Gamers don't like the idea of graphics-card makers raking in big profits from inflated prices driven by mining demand.
Still, Nvidia acknowledged that, for the second quarter in a row, cryptocurrencies played a significant role in the company's improving financial outlook.
"Cryptocurrency demand was again stronger than expected, but we were able to fulfill most of it with crypto-specific GPUs, which are included in our OEM business at $289 million," said Nvidia CFO Colette Kress in Thursday's earnings call. "As a result, we could protect the vast majority of our limited GPU supply for use by gamers."
That $289 million figure is already almost 10 percent of Nvidia's revenue. And it likely understates the impact of cryptocurrency on Nvidia's bottom line. If an individual consumer buys a graphics card at retail, there's no way Nvidia can know if it's being used for gaming, mining, or some other purpose. And even if the rest of Nvidia's graphics cards went exclusively to gamers, the cryptocurrency-induced shortages helped to push up the average price—and therefore profitability—of all graphics cards Nvidia sold.
The story has been similar for Nvidia's main graphics card rival AMD, which released first-quarter results a few weeks ago. AMD announced record revenues and profits, with revenues up 23 percent since last quarter and 40 percent over a year earlier. AMD earned an $81 million profit in the first quarter of 2018, compared to a $19 million loss the previous quarter and a $33 million loss in the first quarter of 2017.
AMD says that cryptocurrency-related sales accounted for about 10 percent of overall revenue, which again could be understating its impact on AMD's profits.
GPU makers' blockchain bonanza might be over soon
Cryptocurrency values have been falling in recent months, and graphics cards have been following along with it. GPUs haven't quite returned to "normal" values last seen a year ago, but they're a lot cheaper than they were earlier this year.
On Thursday, Nvidia said it was projecting next quarter's cryptocurrency-specific revenue to be a third what it was in the first quarter.
Why this year's insane graphics-card price surge might be over